Cheap Houston Astros Ceramic Christmas Ornament, MLB Christmas Ornaments
Buy More Save More!
It's time to give thanks for all the little things.
Take

2% OFF

for orders over $100.00

Take

5% OFF

for orders over $200.00

Take

8% OFF

for orders over $250.00

Take

10% OFF

for orders over $350.00

Take

15% OFF

for orders over $500.00

Take

18% OFF

for orders over $550.00


Order placed
After you place an order, it will take us 2-3 business days to prepare the item for you.
Order ships
Your item will be packed for shipping and we will email you a tracking code.
Delivered!
Estimated to arrive at your doorstep
Christmas is coming and if you are looking for vintage Christmas decorations, you have come to the right place. Our unique Christmas decorations for 2022 will make your house stand out from the rest. With our wide selection of Christmas decorations, you will be sure to find the perfect ones to fit your budget. So take a look around and find the perfect decorations to make your home merry and bright this holiday season. And remember, our prices are unbeatable. So you can save your money for more important things, like Christmas presents!
Houston Astros Ceramic Christmas Ornament, Cheap Christmas Decoration
Houston MLB team are World Series champions for 2022. From 1962 through the end of the 2022 season, the Astros' all-time record is 4,831-4,820 . In addition to having the most postseason appearances by an expansion team, they are the only expansion era team with an all-time winning record.
These the baseball Christmas ornaments are the perfect way to show your holiday spirit, and they're sure to bring a smile to everyone's face, they are not just only Baseball Christmas decorations but also Christmas gifts for your family, friends, your loved ones who are MLB baseball lover
You can celebrate a wonderful Christmas with Houston Astros Ceramic Christmas Ornament.
Our cute baseball ceramic Christmas ornament have "MLB Baseball Houston Astros World Series Champs 2022" design on ceramic ornaments in three shape: Christmas star ornament; Christmas circle ornament; heart shaped ornaments.
Let's check out Houston Astros Ceramic Christmas Ornament now to make your Christmas merry and bright with the MLB Christmas ornaments. They're the perfect way to add some holiday cheer to your home.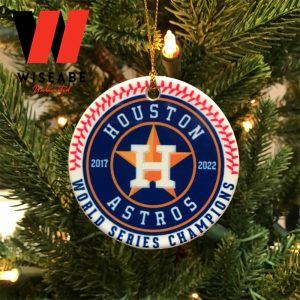 Details Of Wiseabe Ornaments :
Best Material: The ornament is made of ceramic
Perfect Quality and Durability: Printed in one side or two sides.
Available in 3 shapes Star, Heart and Circle
0.125″ (3mm) thick high-quality porcelain
The height of the hole can slightly deviate
NB! Each pack contains a single ornament
Shipping calculated at checkout.
Shipping cost is $8 for US and $15 for others countries.
Import Duty and GST/VAT applicable in your country not included.
Estimated delivery: 8-10 working days for US; 10 -15 days working days for other countries 
 Orders can only be canceled within 24 hours